Montana Fish, Wildlife and Parks has tried as hard as it could to cover up the tremendous loss of elk, moose and deer to wolves - until they ran into a wall. That wall was when the sportsmen of the state began letting them know, in no uncertain terms, they were sick and tired of being lied to by an agency, and a game commission, that is supposed to insure healthy populations of wildlife. That is mandated by the Montana State Constitution...and by state law.
FWP and those on the FWP Commission have blamed everything from global warming to a severe winter 12 or 14 years ago for the drastic decline of the big game herds. And even more recently began claiming that "other predators" (i.e. mt. lions and bears) were the cause of a large majority of the predation impact.
That has angered sportsmen even more. Those who spend a great deal of time in the outdoors fully know that the loss is directly linked to wolves - and the inability of FWP to come even close to accurately assessing the wolf population of Montana. Still, the agency seems to remain in denial...and often act as if they don't have a clue about what's happening.
Well...perhaps they should stop looking at Univeristy of Montana generated wildlife population/management models - and start observing what's happening elsewhere in the world. Following is a look at a similar problem in part of what used to be the USSR...and what they are doing to alleviate that problem. - Toby Bridges, LOBO WATCH
__________________________________________________________________________________
By The Siberian Times reporter
26 January 2013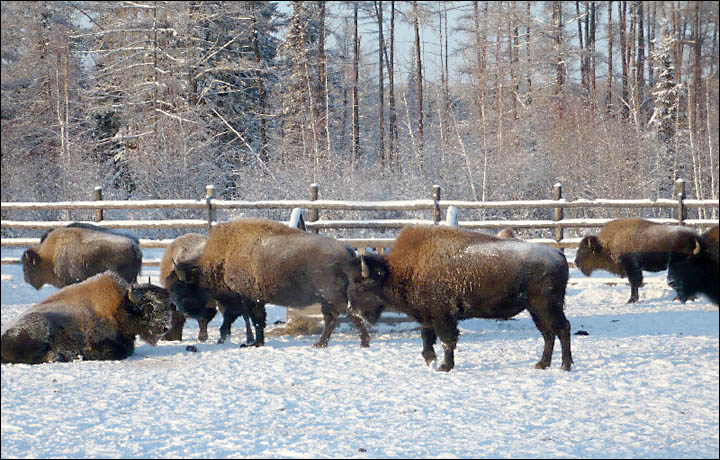 Two bison calves born in 2012 are seen as particularly vulnerable to wolf attacks. Picture: Lenskie Stolby Nature Reserve, Yakutia.
The bison - or buffalo - are under special protection from hunters amid rising concern over wolf attacks.
The threatened animals were airlifted to the Sakha Republic - also known as Yakutia - from Alberta in Canada in recent years.
'Local hunters are guarding two nurseries that are a home to about 100 animals,' said Andrei Popov, an official at the republic's Nature Protection Ministry.
The wood bison, anyway a threatened species, were brought to Siberia to boost the animal's long term chances of survival. Some 10,000 years ago, the related steppe bison roamed this part of sub-Arctic Russia. But the 800 kilogram creatures are powerless against attacks by packs of wolves. Two bison calves born in 2012 are seen as particularly vulnerable to wolf attacks.
This region in Siberia - and others - have seen unprecedented attacks this winter by wolves on herds of both reindeer and horses. But it is clear the bison are also in jeopardy. A state of emergency was declared in the republic and teams of hunters are now engaged on a purge of the wolves with the government ordering a cull in the population from an estimated 3,500 to only 500. Hunters are on financial incentives to slaughter the wolves.
A fall in polar hare numbers has led to wolves switching to other food sources, say zoologists.
More than 16,000 reindeer and over 300 horses were lost last year.
The bison were flown in to Sakha by a heavy Russian transport aircraft between 2006 and 2011. The aim is for the population to become self-sustaining and then to release them to the wild. "Bison haven't been present in that part of the world for over 10,000 years," said Todd Shury, a Parks Canada wildlife veterinarian involved in the bison relocation in 2011.